Competências gerenciais relacionadas à segurança do paciente: uma revisão integrativa
Palavras-chave:
Competência profissional. Segurança do paciente. Liderança. Sistema de Saúde.
Resumo
Objetivo: Identificar as competências gerenciais relacionadas à segurança do paciente. Método: Trata-se de uma revisão integrativa da literatura.
A busca foi realizada em 2017, nos idiomas inglês, português e espanhol, na base de dados Public Medline (PubMed). Os textos incluídos deveriam
estar disponíveis na íntegra e abordar a temática proposta. Resultados: Foram selecionados 34 artigos e identificadas 11 competências: liderança, cultura
da segurança, trabalho em equipe, comunicação, advocacia, manejo de risco, competência conceitual, competência funcional, inteligência emocional,
tomada de decisão e gestão e planejamento centrado na segurança. A identificação das competências possibilitou defini-las no contexto da gestão, quando
aplicáveis na área cirúrgica, além de verificar as estratégias para o seu desenvolvimento. Conclusão: Embora tenha sido utilizada apenas uma base de
dados, recomenda-se que estudos subsequentes apliquem essas estratégias, o que permitirá aos gestores das instituições planejar a implementação da
cultura de segurança de uma maneira mais efetiva e concreta.
Referências
World Health Organization. Medication without harm: WHO's Third Global Patient Safety Challenge [internet]. Geneva: World Health Organization, 2017 [cited 2017 July 08]. Available from: http://who.int/patientsafety/medication-safety/en/
Naik VN, Brien SE. Review article: simulation: a means to address and improve patient safety. Can J anaesth. 2013;60(2):192-200.
Sevdalis N, Hull L, Birnbach DJ. Improving patient safety in the operating theatre and perioperative care: obstacles, interventions, and priorities for accelerating progress. Br J Anaesth. 2012;109:3-16.
Landrigan CP, Parry GJ, Bones CB, Hackbarth AD, Phil M, Goldmann DA, et al. Temporal trends in rates of patient harm resulting from medical care. N Engl J Med. 2010;363:2124-34.
Fleury MTL. Construindo o conceito de competência. Rev Adm Contemp. 2001:183-96.
Giunsburg L, Castel E, Tregunno D, Norton PG. The H-PEPSS: an instrument to measure health professionals' perceptions of patient safety competence at entry into practice. BMJ Qual Saf. 2012;21:676-84.
Giunsburg L, Tregunno D, Norton PG. Self-reported patient safety competence among new graduates in medicine, nursing and pharmacy. BMJ Qual Saf. 2013;22:147-54.
Cushing AM, Ker JS, Kinnersley P, McKeown P, Silverman J, Patterson J, Westwood OM. Patient safety and communication: a new assessment for doctors trained in countries where language differs from that of the host country: results of a pilot using a domain-based assessment. Patient Educ Couns. 2014;95(3):332-9.
Dempsey J. Nurses values, attitudes and behavior related to falls prevention. J Clin Nurs. 2009;18(6):838-48.
Kunzle B, Kolbe M, Grote G. Ensuring patient safety through effective leadership behavior: a literature review. Saf Sci. 2010;48(1):1-17.
Kemper PF, Noord IV, Bruijne M, Knol DL, Wagner C, Dyck CV. Development and reliability of the explicit professional oral communication observation tool to quantify the use of non-technical skills in healthcare. BMJ Qual Saf. 2013;22(7):586-95.
Mendes KDS, Silveira RCCP, Galvão CM. Revisão integrativa: método de pesquisa para a incorporação de evidências na saúde e na enfermagem. Texto & Contexto Enferm. 2008;17(4):758-764.
Siassakos D, Fox R, Bristowe K, Angouri J, Hambly H, Robson L, Draycott TJ. What's makes maternity teams effective and safe? Lessons from a series of research on teamwork, leadership and team training. Acta Obstet Gynecol Scand. 2013;92(11):1239-43.
Aggarwal R, Mytton OT, Derbrew M, Hananel D, Heydenburg M, Issenberg B, et al. Training and simulation for patient safety. Qual Saf Health Care. 2010;19 Suppl 2:i34-43.
Wagner DP, Hoppe RB, Lee CP. The Patient Safety OSCE for PGY-1 Residents: A Centralized response to the challenge of culture change. Teach Learn Med. 2009;21(1):8-14.
Kathleen L. Mcfadden Stephanie C. Henagan Charles R. Gowen. The patient safety chain: Transformational leadership's effect on patient safety culture, initiatives, and outcomes. Journal of Operations Management. 2009;27(5):390-404.
Sanfey H, McDowell C, Meier AH, Dunnington GL. Team training for surgical trainee. Surg (Edinb). 2011;9 Suppl 1:S32-4.
KW Weeks et al. Safety in Numbers 2: Competency modelling and diagnostic error assessment in medication dosage calculation problem-solving. Nurse Educ Pract. 2012;13(2)e23-32.
Azuara-Blanco A, Reddy A, Wilkinson G, Flin R. Safe eye surgery: non-technical aspects. Eye (Lond). 2011;25(9):1109-11.
Russell TR. Quality and safety initiatives in the future practice of surgery: meeting patient demands for enhanced professionalism. Surg Today. 2009;39(9):739-45.
Keats JP. Patient safety in the obstetric and gynecologic office setting. Obstet Gynecol Clin North Am. 2013;40(4):611-23.
Rutherford JS, Flin R, Mitchell L. Non-technical skills of anaesthetic assistants in the perioperative period: a literature review. Br J Anaesth. 2012;109(1):27-31.
Jeffs L, Abramovich IA, Hayes C, Smith O, Tregunno D, Chan WH, Reeves S. Implementing an interprofessional patient safety learning initiative: insights from participants, project leads and steering committee members. BMJ Qual Saf. 2013;22(11):923-30.
Norris EM, Lockey AS. Human factors in resuscitation teaching. Resuscitation. 2012;83(4):423-7.
Larsson J, Holmström IK. How excellent anaesthetists perform in the operating theatre: a qualitative study on non-technical skills. Br J Anaesth. 2013;110(1):115-21.
Geraghty A, Reid S, Mcllhenny C. Examining patient safety atitudes among urology trainee. BJU Int. 2014;113(1):167-75.
Teng CI, Chang SS, Hsu KH. Emotional stability of nurses: impact on patient safety. J Adv Nurs. 2009;65(10):2088-96.
Salas E, Dias-Granados D, Weaver SJ, King H. Does team training work? Principles for health care. Acad Emerg Med. 2008;15(11):1002-9.
Birsner ML, Satin AJ. Developing a program, a curriculum, a scenario. Semin Perinatol. 2013;37(3):175-8.
Woods M. Cultural safety and the socioethical nurse. Nurs Ethics. 2010 Nov;17(6):715-25.
Holland R, Meyers D, Hildebrand C, Bridges AJ, Roach MA, Vogelman B. Creating champions for health care quality and safety. Am J Med Qual. 2010 Mar-Apr;25(2):102-8.
Duff B. Creating a culture of safety by coaching clinicians to competence. Nurse Educ Today. 2013;33(10):1108-11.
Kerner Jr RL, Gallo K, Cassara M, D'Angelo J, Egan A, Simmons JG. Simulation for operational readiness in a new freestanding Emergency Department: strategy and tactics. Simul Healthc. 2016;11(5):345-56.
Stephens T, Hunningher A, Mills H, Freeth D. An interprofessional training course in crises and human factors for perioperative teams. J Interprof Care. 2016;30(5):685-8.
Kristensen S, Christensen KB, Jaquet A, Møller Beck C, Sabroe S, Bartels P, Mainz J. Strengthening leadership as a catalyst for enhanced patient safety culture: a repeated cross-sectional experimental study. BMJ Open. 2016;6(5):e010180.
Härgestam M, Hultin M, Brulin C, Jacobsson M. Trauma team leaders' non-verbal communication: video registration during trauma team training. Scand J Trauma Resusc Emerg Med. 2016;24:37.
Baker VO, Cuzzola R, Knox C, Liotta C, Cornfield CS, Tarkowski RD, Masters C, McCarthy M, Sturdivant S, Carlson JN. Teamwork education improves trauma team performance in undergraduate health professional students. J Educ Eval Health Prof. 2015;12:36.
Hwang JI, Ahn J. Teamwork and clinical error reporting among nurses in Korean hospitals. Asian Nurs Res (Korean Soc Nurs Sci). 2015;9(1):14-20.
Ministério da Saúde (BR). Portaria no. 529, de 1 de abril de 2013. Institui o Programa Nacional de Segurança do Paciente (PNSP). Diário Oficial da União: República Federativa do Brasil [Internet]. 2013 [cited 2015 Aug 14]; Seção 1:43-4. Available from: http://bvsms.saude.gov.br/bvs/saudelegis/gm/2013/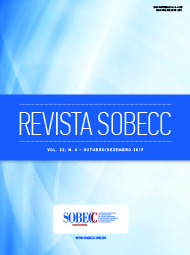 Downloads
Como Citar
Paixão, T. C. R. da, Balsanelli, A. P., Bohomol, E., & Neves, V. R. (2017). Competências gerenciais relacionadas à segurança do paciente: uma revisão integrativa. Revista SOBECC, 22(4), 245–253. https://doi.org/10.5327/Z1414-4425201700040009
Licença
Ao publicar na Revista SOBECC, os autores retêm os direitos autorais de seu artigo e concordam em licenciar seu trabalho usando uma Licença Pública Internacional Creative Commons Atribuição (CC BY 4.0), aceitando assim os termos e condições desta licença. A licença CC BY 4.0 permite que outros distribuam, remixem, adaptem e criem a partir do artigo publicado, mesmo para fins comerciais, desde que atribuam o devido crédito aos criadores do trabalho (autores do artigo).
Os autores concedem à Revista SOBECC o direito de primeira publicação, de se identificar como publicadora original do trabalho e concedem à revista uma licença de direitos não exclusivos para utilizar o trabalho das seguintes formas: (1) vender e/ou distribuir o trabalho em cópias impressas e/ou em formato eletrônico; (2) distribuir partes e/ou o trabalho na sua totalidade visando promover a revista por meio da internet e outras mídias digitais e impressas; (3) gravar e reproduzir o trabalho em qualquer formato, incluindo mídia digital.
Com esta licença, os autores podem assumir contratos adicionais separadamente para distribuição não-exclusiva da versão do trabalho publicada nesta revista (por exemplo, publicar em repositório institucional ou como capítulo de livro), com reconhecimento de autoria e publicação inicial na Revista SOBECC. Os autores são estimulados a publicar e distribuir seu trabalho online após a publicação na Revista SOBECC, visto que isso pode aumentar a visibilidade e o impacto do trabalho.
Em consonância com as políticas da revista, a cada artigo publicado será atribuída uma licença CC BY 4.0, a qual estará visível na página de resumo e no PDF do artigo com o respectivo link para os termos da licença.